INTERNS – Opportunities for several internships are available for academic credit or non-credit.  ASD works with area universities and other learning institutions to provide valuable, hands-on experience to those individuals seeking a future in the social services realm. Some majors are required to complete at least one internship experience with the intent to supplement classroom learning with  practical experience; however, all students have the opportunity to participate in an internship experience.
An internship offers many benefits, including:
Valuable Experience: Many employers want to hire people who have experience and can step into the job and be productive.
Information: An internship will help you make contacts, get ideas, and learn about the fields that interest you.
Practical Application: Students will have the chance to apply theories learned in the classroom to a real world setting.
Job Offer: In many cases, an internship can lead to employment.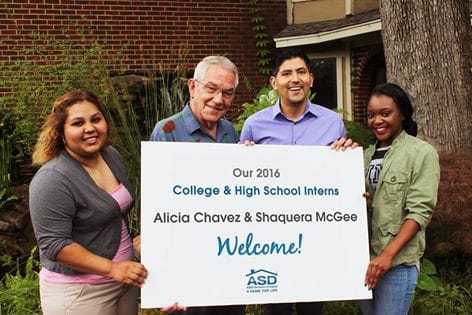 Grant Writing Intern
The Grant Writing Intern position at AIDS Services of Dallas (ASD) is an exceptional opportunity for individuals interested in pursuing a career in grant writing or nonprofit development. Working closely with the Communications and Development Manager, the intern will learn about the grant writing process, from researching potential funding sources to submitting grant applications, and gain experience in tracking and managing grant applications and awards. This internship is ideal for students or recent graduates who are passionate about ASD's mission to provide housing and supportive services to people living with HIV/AIDS. As an intern with ASD, the Grant Writing Intern will develop skills in grant writing, research, and communication while working independently and remotely, which will help build time-management and self-motivation skills. The intern will also learn about the day-to-day operations of a nonprofit organization, particularly in the areas of development and fundraising. With the guidance and support of the Communications and Development Manager, the intern will gain valuable experience that can be applied to future endeavors in grant writing or nonprofit development, making a positive impact in the community.
Kid's Summer Program
Each year ASD chooses one intern from college and one from high school to fill the roles as Children's Activities Coordinator and Assistant, respectively. These roles are responsible for the development and management of summer activities for ASD's youth. Their responsibilities include planning, coordinating, implementing, and facilitating a summer program that helps build self-esteem, social skills, and provides hands-on learning experiences.
I am tremendously grateful to have had the opportunity in being part of this year's children's summer program. It has been a wonderful experience in getting to know the many children at ASD.
Since my very first day here at ASD, I could see how much good and happiness this organization is bringing to these young children. Through the summer program, they have been given the opportunity to explore other parts of their lives both leisure and academic. When they took trips to museums they were actually eager to learn new things and enjoyed the learning experience. Instead of being isolated during the summer, they were able to build healthy relationships with their peers, which are vital to their own social growth. When we did science experiments, they learned how to work in teams which is a great skill to acquire.
As as a mentor, I was there to spend time with them and help them complete tasks and improve their problem-solving skills. I believe it provided them with a safe outlet to have fun and learn new things. It was also a big help to the parents, as some of them have newborns to take care of or are seeking financial stability. They could focus on getting things done rather than be worried about if their child was safe or if they were missing out on anything. The impact was clearly felt as I saw how eager each child was to start the day's activities. When the parents would come to come to pick up or drop off their child, they would let us know how appreciative they were towards this program. When I had first applied for this internship I was seeking to help enrich the lives of others. Now that the internship has come to an end, I can honestly and proudly say that I did complete my goal for summer 2016.
Thank you ASD.
Intern at AIDS Services of Dallas
A memorable and valuable experience